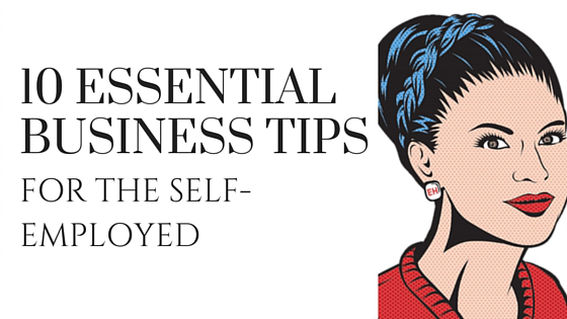 Here are 10 good business practices I've learned over the years of owning and operating a business. These little tidbits have helped with my company exposure and name recognition, and took my business from six figures to over seven figures. Small things can make a big difference in your business, especially if you are working from home. Make sure you keep your mind sharp and your face out there for your vendors and clients to remember you.
1) Be a partner to your clients
Your client hired you to help with a project, idea or specific task. Your job is to make them look good to someone that is important to them whether it be a boss, colleagues or their clients. Make sure you consider yourself a part of their team to succeed.  Being a valuable team member makes it less likely you will be replaced.
2) Keep up with fresh ideas and the newest technology
You're the expert in your field; your clients look to you for fresh ideas and what is happening in that field that they don't have time to track. Knowing what's new and cutting edge will keep you on their minds when they need innovative ideas and a new approach for their problems or opportunities. Being well versed has led me to many upsell situations, and can happen to you as well.
3) Read and absorb industry material
What magazines, blogs, newsletters etc. are you reading? Are you checking in on your competitors? What are they offering that you aren't? Are they contributing to the industry news?  In this day of easy access to new and exciting information in your industry, you want to make sure you can introduce your clients to new and exciting offerings that fit their needs. They are hiring you for your ideas and inspirations. Make sure you have something to offer.
4) Document ideas that fit your clients' needs as you come across them
You're out and about, talking to people and learning what others have done in the industry. If you're attending tradeshows, networking with other professionals in your line of work or attending conventions, you will probably run across information that you think would be great to pass on to your clients. Make a note in your computer so that you have that information next time you have the opportunity to chat with your client. This will give you information to share as well as a great way to get in front of your client to sign the next contract.
5) Communicate with past and present clients to stay on top of their mind
Once I got an event from a client just because he had a need and his previous provider didn't stay in touch. OUCH! – this left an opening that I was able to walk in and close. Make sure you are reaching out to your clients every now and then, this way your name isn't forgotten and your card isn't lost in a sea of other similar businesses, but rather stays at the top of the pile.
6) Become friends with your clients
I had a client for several years and I knew little about her story but was careful not to share my own. One day we both happened to be sitting together watching our daughters play volleyball and got into a conversation that we both connected on. This made the sales process, meetings and events so much easier. We now had connecting points and shared experiences on a personal level, not just business. Be careful that you remain positive when visiting with your clients. Don't slip into nagging, complaining or talking about other clients in a negative way. This will have the exact opposite effect you were going for.
7) Hire experts in areas you don't excel in
The age-old difficulty for the business owner… letting go! – don't' worry you are not alone but the quicker you learn to let go of tasks that someone else can fulfill for you, the faster you will grow. Take me for example; taking six hours out of my week to mow the lawn just doesn't seem financially sound. Consider this…what is hourly rate? Can you hire someone to do it for less than what it would 'cost' you?
If you don't enjoy it, don't have the best equipment, or get frustrated and pull away from where you make your money to handle a task, delegate it out! When I finally learned this lesson (one I heard over and over throughout the years) my business doubled! Know your strengths and weaknesses, play to your strengths and hire to fulfill your weaknesses. This saves you time and frustration.
Finding the Perfect Vendors for Your Corporate Event
8) Become an information resource
Do you have one person you can call when you just can't find what you're looking for? That one person who knows where to find the impossible? Be that person for your clients and vendors. You know you have the connections and it really doesn't take much time, but knowing where to find the unusual, who can make it and how to make it has been a wonderful way to keep my name and number handy for my clients and vendors.
I had an experience where the meeting planner requested something from the hotel and the hotel event manager agreed to provide, but then didn't know how to provide what they had agreed to…they called me and I ended up with a very good client for 10 years. And the hotel looked like a genius for being able to provide the request.
9) Surround yourself with like-minded people
One of my favorite groups I belong to is a group called South Side Masterminds. It's a group of entrepreneurs from different industries that get together once a month and discuss business challenges, ideas and solutions. We are a very small and closed group, we laugh throughout the whole meeting, and the ideas and businesses that have come out of this group have been amazing. I highly suggest you find your own think tank to get involved with. This keeps you active in the community (especially if you are a solopreneur!) and exposes you to new ideas and thought processes.
10) Contribute to the community
Online or in your neighborhood, being involved in your community is a great way of sharing your passion, giving back and getting to know others. It's not all about gaining new clients or finding your next big event, but on occasion it might lead to that. For me, I have always enjoyed helping others achieve their goals and putting their best foot forward for their clients, donors, etc. It feels good to help create an event that everyone benefits from.
I pick two or three events a year to donate my time and resources to, and do my best to make sure their event goes off without a hitch. I have a few very cool events that I have had the opportunity to have an impact on, and there is nothing more rewarding. The relationships I've built through these organizations have been priceless!
These are a few of the very important tips we as entrepreneurs need to keep on top of our minds each and every day to make sure our business, and you, stay in the limelight. Remember the roofing guy you met at the 4th of July party? Probably not, because he didn't connect with you following that one-time meeting, so you probably won't think of his name next time someone is mentioning how they need their roof redone.
We are all human and each busy in our lives, if our face isn't seen to those that can recommend us, than we are losing out on business connections that would come our way. They say the best opportunity to sell is when someone else has recommended you. Get out there and be seen!
http://www.myklroventine.com/_dev/eventheroes/wp-content/uploads/2019/09/f8536f_7d31ad1b2144400ba49944a983ee67f3.jpg
319
567
Tracy Fuller-White
http://www.myklroventine.com/_dev/eventheroes/wp-content/uploads/2019/07/75b04e_f71e33afad414262ba39f703670d8173.png
Tracy Fuller-White
2016-04-06 23:07:37
2019-09-26 23:09:34
10 Essential Business Practices for the Self-Employed