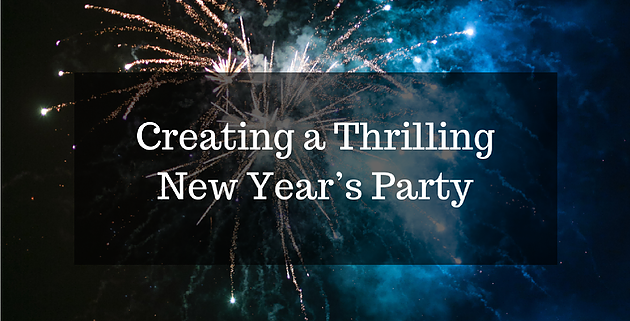 The Holidays are quickly approaching, which means events and gatherings of all kinds for you to either host or attend. One holiday in particular is New Year's Eve, which is always accompanied by the year's biggest parties. New Year's Eve is a time to celebrate the past year's successes and new beginnings of the upcoming year.
As a host, you always want to put your best foot forward. Have fun brainstorming fun ideas, but most importantly make sure you are prepared for the task at hand. Whether you are hosting a celebration for friends and family or having a huge blowout party with celebrity performers, we have some ideas on how to create a thrilling New Year's Eve party!
Whether you want to WOW! your guests with festive food, interactive games or a themed atmosphere, we came up with ideas to make your guests leave in awe:
Light Up the Night with an Interactive Activity
Instead of fireworks, surprise your guests with Chinese lanterns! This subtle, yet beautiful custom is a great interactive entertainment option. Guests will enjoy being this hands on activity where they can write their wishes for the year on the lantern and watch them float into the sky. Make sure that this activity is legal in your state, as several have acted to ban it.
Use a Bubbly Twist on Decor
Champagne is a MUST for NYE parties. Since you'll already have bought champagne for the party, use empty or full bottles for decorations as well. Add glitter and decorate them for centerpieces or place them around the room! Pinterest has some great ideas on how to repurpose the bottles.Have Bite-sized SweetsAs midnight nears, guests will likely be standing and walking around more than before as the party comes into full swing. For dessert, try festive Cake Pops! These are easy to grab and are hard to resist.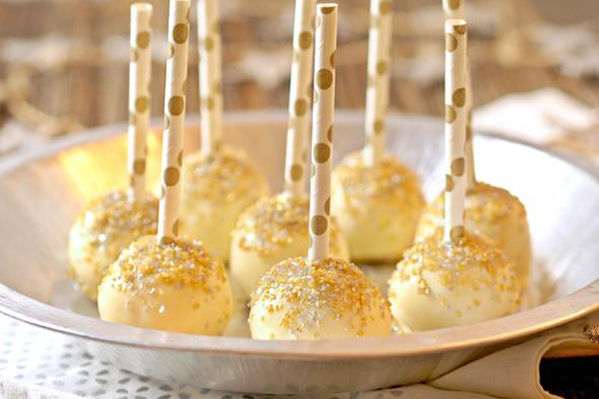 Photo Source: Celebrations.com
Another great option for a late-night snack is personal popcorn boxes. Make this easy and loveable snack pop at your party by placing them in a printable box, perfect for sponsorship at large parties or a personal message for more intimate gatherings.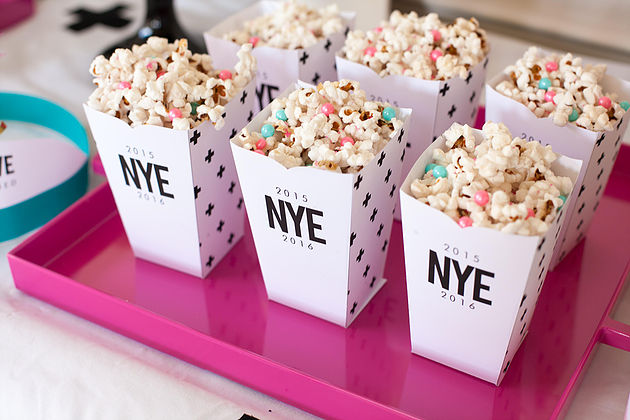 Photo Source: Celebrations.com
Theme It Up
For those looking for a unique NYE party theme consider a 'Black and White Ball' or a 'One Last Hurrah'. Check out the details here! Other popular options include prohibition parties, masquerade mystique, or even black light. Just be sure that your theme aligns with interests of the guests you are inviting.
Share the Year's Highlights
NYE is also about reflecting on the past year. For smaller parties, have guests write their favorite memory of the year on fun colored paper and place them in a mason jar. Read these aloud to relive great memories. For large parties, have guests tweet or share a post on Instagram and portray them on a screen inside. Guests will love to see themselves on a big screen!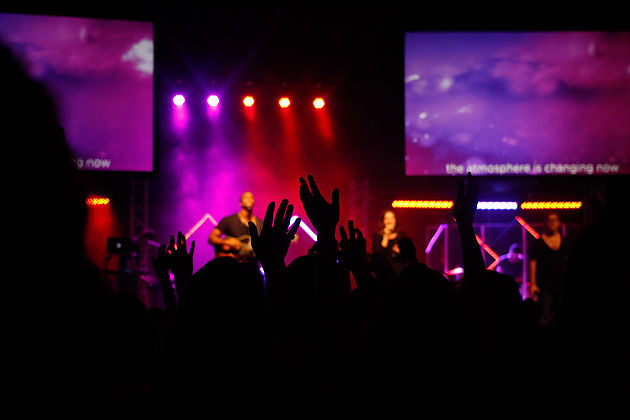 Make it Memorable with Photo Opportunities
At any fabulous party people are going to want pictures. Who doesn't love capturing a memory of when they are dressed to the nines or having a blast with friends? Set up a photo booth or create a space with a festive backdrop. Encourage guests to strike a pose by having fun props to pose with. Include props with the upcoming and past year, fancy glasses (stars, sparkles, & funky spectacles), mustaches & lips, and printed phrases like the one below!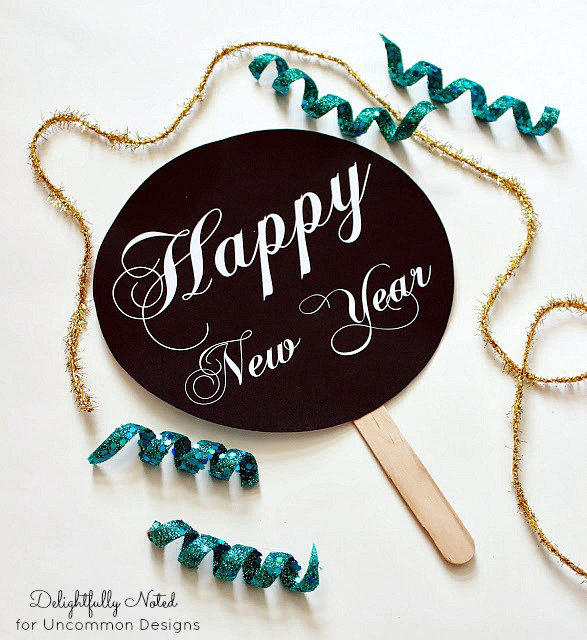 Photo Source: Uncommon Designs Online
These are just a few ideas to get your NYE party started! Anything with glitter, champagne and finger foods are always a hit, but try to think outside of the box for your party this year! What unique twist are you planning on using or have you seen in the past? We'd love to hear!
http://www.myklroventine.com/_dev/eventheroes/wp-content/uploads/2016/11/071d6f_cef3645540244e7596a0093f0dab45aemv2.png
355
630
Tracy Fuller-White
http://www.myklroventine.com/_dev/eventheroes/wp-content/uploads/2019/07/75b04e_f71e33afad414262ba39f703670d8173.png
Tracy Fuller-White
2016-11-02 09:00:00
2019-09-27 16:02:36
Creating a Thrilling New Year's Party