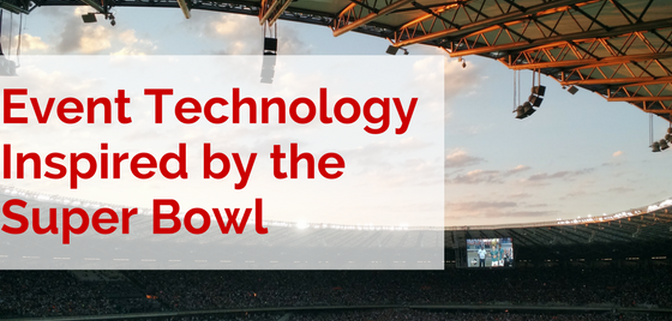 As the biggest sporting event of the year, Super Bowl 51 did not disappoint! It is a great event, for both sports and non-sports fans to watch. It has something for everyone from the game, to the year's most anticipated advertisements, and the musical guests. After watching the Super Bowl, I was inspired with all the new possibilities of event technology!
Drones:
During the halftime show, you may have noticed the use of drones above Lady GaGa! I searched and found that it was several hundred drones creating the light display by her. Specifically, they were Tiny Shooting Star quadcopters by Intel. It is amazing what the team who managed the drone display did!
The use of drones is one thing that I have always wanted to do. There are so many innovative ways to use these, including lighting, video and photo, as well as an aerial display. I expect the use of drones to be used more and more during events.
180-degree projection:
Another technology that I forecast will be a big hit with events this year and was used at the SuperBowl is the 180-degree room with projection screens. This year, Hyundai brought the Super Bowl to our service men and women overseas while they sat them down surrounded in a 180-degree projection while their families were watching Super Bowl 51. Watch it here to see the technology for yourself!
Using this type of technology pulls your audience in and gives them the full effect of being somewhere else. Ideas of this could be for an 'Under the Seas' theme or a 'Space' theme. The possibilities are endless! Giving a similar experience as Virtual Reality.
Work to give your audience an experience, something that they will never forget. I think we will be seeing more of these technologies in the event space! Talk to your AV team when considering this for an event!
After watching the Super Bowl, I am very excited to see how these technology takeaways will be applied to the event world! Keep an eye out for these innovative event technologies, and let us know what you think!
http://www.myklroventine.com/_dev/eventheroes/wp-content/uploads/2017/02/071d6f_954cd2a13c6d42e99e08d24851370dbfmv2.png
378
672
Tracy Fuller-White
http://www.myklroventine.com/_dev/eventheroes/wp-content/uploads/2019/07/75b04e_f71e33afad414262ba39f703670d8173.png
Tracy Fuller-White
2017-02-08 08:37:00
2019-09-27 14:39:54
Event Technology Inspired by the Super Bowl