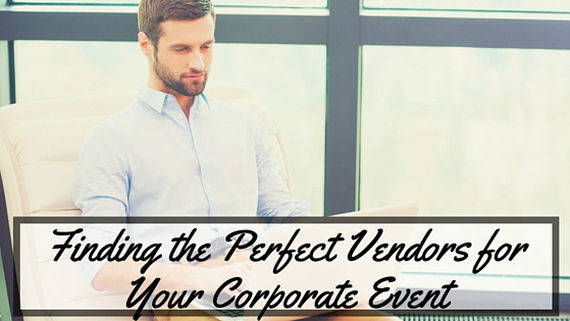 A key to success for every event planning company is a professional team of vendors. It doesn't matter how great your ideas are–without a good team you cannot compete in the event planning industry. Having the right vendors is like a good marriage.  You want to hire reliable vendors that think of this as a long term relationship.  While they may not be the cheapest, over time, their prices will be fair and their service will be well worth the cost. Make sure to take the time and get to know them before starting the work in order to forge a long term relationship.
Your event can be tarnished even by one bad vendor, as he/she can leave a bad impression on the event attendees. The decorator may choose the wrong color or performers may not be well prepared. It is almost impossible to erase all these bad moments from your client's mind. So finding the perfect vendors for your corporate event is the first guarantee to success.
Ok, now if you are ready to start your research, here are the types of vendors you are going to need for your corporate event:
Performers to keep attendees entertained
Photographers to capture the best moments of your party
Decorators and florists to create the perfect atmosphere
Waiters to serve food and beverages
Art director to handle computer imaging, design and so on
Graphic artist to create event posters and invitations
Registration staff to welcome attendees, register them and direct them
Successful event planners say that the best way to choose the right vendors is to carefully vet them ahead of time, both directly and indirectly.  Before contacting vendors, make sure to talk with other industry leaders and ask them about their own experiences with vendors.  We like to use a CRM, like Salesforce.com, to keep track of any information we find about vendors, in addition to using it for our sales process and to track our competitors.  This allows us to keep track of positives and negative about any company over time, in addition to prices paid.  Issues always arise at events. The best vendors are the ones that are able to decrease issues, but more importantly, deal with them properly over time.   We are generally more impressed with vendors that have solid processes and procedures as planning allows us to decrease risk and have a better event.
When you have a list of recommended vendors, you are ready to start your research and collect information about these things:
Vendor name, address, contact information
Specialization
Prices
Discounts offered
Payment and refund policies
 Insurance coverage
Licenses they have
 Qualitative information:  This can be experiences from both customers and competitors.  What did they do well?  What didn't they do well?
Having such a vendor file is crucial, as it will save you much time and effort down the road. When you have all this information in a CRM, the vendor selection process becomes much easier.  Before hiring a vendor for your corporate event, make sure to find as much information as you can about that company's past interactions, successes, failures and any tidbits of information you can glean.
The first indicator of a good vendor is the responsiveness and professionalism they show in interacting with you.  Here are some specific things to understand in order to vet a vendor:
How professional are they?  You want to deal with a vendor that will expedite the process seamlessly and one that won't suck away your precious time.  Time is at a premium when it comes to large events and you want someone that frees your time.  Best way to tell is to find out their process for a proposal. This is probably the most key question as it will tell you whether they treat their business like a business, or as a hobby.  From there, dig into the proposal to find out what their contingencies are.  We are surprised by the number of and seemingly basic issues that event planners deal with when it comes to vendors.  Two questions that we are very rarely asked, but seems the most obvious are:
What happens if your performers don't arrive on time, or just don't show up?
How do you deal with unplanned changes during the event?
Have they done a similar event prior?  You really want to understand their experience.  This will dictate how they deal with changes and reduce issues.  If they can tell you what has worked and what hasn't in the past for a similar event, their experience becomes obvious.  It's always a good idea to ask questions for which you already know the answer, and more importantly, ones that they should know the answer.
Do they have contracts in place or will they need to draft one?  This is obviously a deal killer, but it still amazes us how many vendors still do not use contracts, and even more so, how many event planners hire vendors without them.  Contracts are not in place to ensure that vendors do what they intend.  In fact, most any vendor will plan with best intentions to execute well ahead of payment.  Instead, contracts are necessary to detail what happens when issues arise.  You generally get what you pay for, and vendors without them are sketchy, at best.  Also, do they use electronic signature software?  We use and like DocuSign as it reduces the contract process and lets us focus more on the event.  Will you need to chase vendors down for a COI?   These questions will give you a good understanding of the experience and amount of time you will need to "invest" in your vendors.
When you are ready to hire, make sure that they create a detailed proposal showing what the vendor is going to do for your event. In general, vendor proposals consist of the following parts:
 Description of the main service offered
Costs and payment methods
Description of the equipment provided
Scheduling information
Insurance and other risk management methods
List of vendor requirements (e.g. electricity, water)
Additional services offered
With all the above-mentioned information in your mind, here are some bonus tips that will help you to find the right vendor for your corporate event.
1.     Determine your needs
First of all, before starting the research process, try to understand what are your needs and requirements. What kind of corporate event are you hired to deliver? Is it formal or more interactive and fun? How many people will attend the event? Will it be indoors or outdoors? What is the theme of the event? Are there any special guests to invite? What is the vendor budget for the event?  You should clearly understand your needs and prepare a list of how your vendors match them.  By doing so, it will be easier for you to judge their proposals.
2.  Ask for referrals
As the great investor Warren Buffett says, "Price is what you pay.  Value is what you get."  What he means is that cost is not indicative of value.  For example, we work with a saxophonist that is very pricey.  Most customers balk at the price and instead go for a much cheaper option as budgets are tight. The only way we've been able to book him is because customers have asked for referrals. However, this saxophonist is fantastic and really elevates the mood at the event.  He's fun and guests absolutely love him.  Despite the high price, 80% of event planners that have booked him a first time have booked him subsequently.  Try to connect with other clients the vendor had worked with and ask their opinions. Also, since many vendors in the same city interact a lot with each other, you can ask the vendors you have already booked if they had worked with that particular person to find out whether you are making the right choice.
3. Don't be afraid to negotiate
You have found the perfect vendor for your corporate event, but you think that it's too expensive compared with other ones? Don't be afraid to negotiate, because you never know whether they will offer some discounts or special promotions for you.  Sometimes your budget just doesn't work and we get that.  We often reduce prices for event planners we work with on an ongoing basis and have developed a relationship.  We are looking for long term relationships and understand that you are sometimes trying to pull off the impossible with a tight budget.  On the other hand, planners also need to understand that we can't always give discounts and a long term relationship is "give and take".
As Benjamin Franklin said, "By failing to prepare, you are preparing to fail".  Finding the perfect vendors for your corporate event is probably the most difficult step in event planning. Make sure to hire those, with whom you will prepare for the success and not for the failure.
Do you have other tips for selecting vendors that you would like to share with us? We would love to hear about them in the comments section below.
26 Stars is a NYC based company specialized in creating fantastic event experiences. Our custom designed outfits, amazing live performers and entertainers have taken the events and parties of numerous stars and companies to the next level. Find out more about our company on our website www.26stars.com and visit blog.26stars.com for interesting articles and resources about the event planning industry.
http://www.myklroventine.com/_dev/eventheroes/wp-content/uploads/2019/09/f8536f_7d212584d6ff450b9efd348ce4282d45.jpg
321
570
26 Stars
http://www.myklroventine.com/_dev/eventheroes/wp-content/uploads/2019/07/75b04e_f71e33afad414262ba39f703670d8173.png
26 Stars
2016-02-12 22:35:12
2019-09-26 22:40:29
Finding the Perfect Vendors for Your Corporate Event