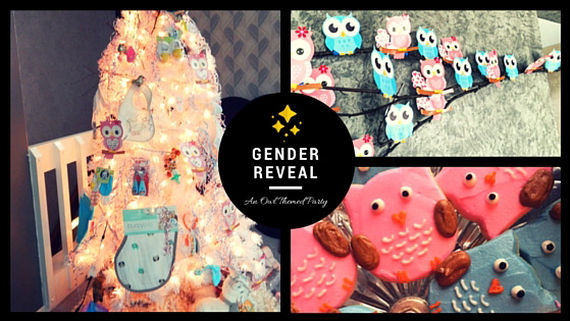 When theming gets personal
As an event pro, it's always hard to plan your own event, or it is for me. Knowing all of the possibilities for planning and with tons of great ideas racing through my mind, it is hard to choose just one idea to stick with.
Over the holidays, my family had the opportunity to plan my daughter's gender reveal party. Of course we were all excited to learn the gender of this "coming soon" attraction, but I'm not sure anyone's excitement level could match mine; this is my first grand baby after all!
We started with one of the items my daughter loves to collect – owls –  and the nursery theme she and her husband have chosen. The theme for this event happened to be enchanted forest.
Our event happened on Christmas Eve; a busy time of year, but the only time we could get all of her friends in the same place for any amount of time. Instead of making this a "party" we went with an afternoon event and offered a little beer and wine, fun finger foods, and amazing owl-shaped cookies in pink and blue!
 Owl-shaped cookies by You Bake Me Happy
When guests arrived, the first thing they did was choose either a pink or blue owl based on their best guess at the gender of the baby. They were also instructed to write a note for the parents or baby and hang it on the Christmas tree.
I created a display using cute little owls printed and cut out, then attached to a small limb from one of our trees outside. I hung the limb on the wall and placed the little pink and blue owls all along the limb. I added some small birds and LED battery operated star lights to add a bit of twinkle.
I've never been a traditionalist when it came to Christmas décor for trees and this year was no different. However, it was also our first year ever for an artificial tree and I went with white. It seemed fitting for a tree decorated with baby gear.  Pacifiers, socks, bibs and stuffed toys were used as ornaments and small woodland animals placed around the base of the tree and hanging throughout the tree made sure our theme was complete.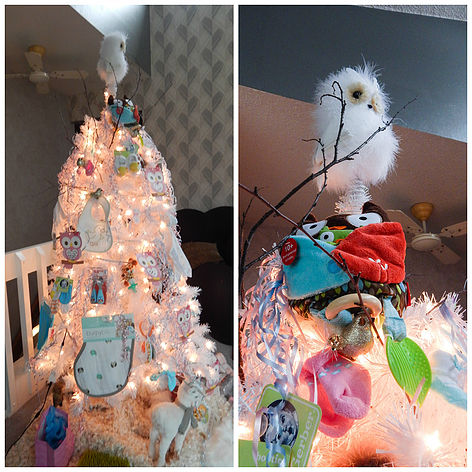 Our food selections included rolls folded as diapers, mini cocktail wieners with little diapers, cucumber sandwiches and other fun bite-sized treats. I was able to find both pink and blue sodas and added those for beverages. Pink and blue punch served out of baby bottles would have been cute as well.
 Bite-sized treats
Diaper-shaped, jelly-filled croissants
Once guests settled in, had a snack and a beverage, and had the chance to reacquaint themselves, we moved from the kitchen to the living room where we were going to do the reveal.  This is an opportunity to play all sorts of games and give away gifts, but we were keeping it brief and got straight to the reveal.
In our house, we have a Christmas stocking that hangs in the ceiling and unzips to reveal small gifts sort of like a reusable piñata. Since it was Christmas Eve, we loaded down the sock with gender specific treats for everyone. We had small bags of flavored popcorn with little owl heads taped to them and when the mom- and dad-to-be unzipped the stocking, out fell the little owls in…. PINK… At the same time, the Christmas tree lit up in pink LED lights.
 Popcorn-filled party favors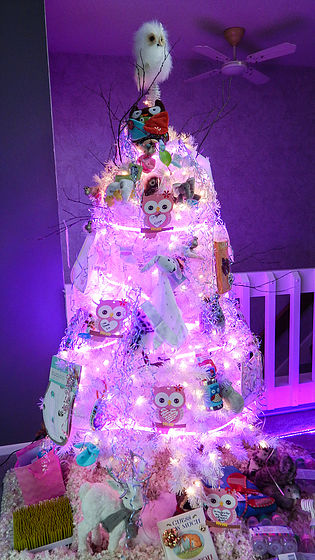 Yep, we will be welcoming a baby girl in April and we can't wait to meet her!! I'm headed out to find those little baby dresses we all love.
Stay tuned for other upcoming celebrations this spring, we have a whole list of them.
http://www.myklroventine.com/_dev/eventheroes/wp-content/uploads/2019/09/f8536f_1796d595029f4d96b2b28c0bed4f799d.jpg
321
570
Tracy Fuller-White
http://www.myklroventine.com/_dev/eventheroes/wp-content/uploads/2019/07/75b04e_f71e33afad414262ba39f703670d8173.png
Tracy Fuller-White
2016-01-20 22:08:09
2019-09-26 22:11:59
Gender Reveal Party
Event Hero Survival Guide: Week 2
Event Hero Survival Guide: Week 3