December 17th, 2011 | design | 1 Comment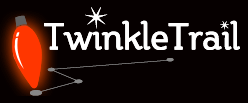 Twinkle Trail  is a new site that allows anyone to submit their favorite holiday light displays, makes it easy to find great displays in your area and even creates customized directions to efficiently take in as many displays as you like.
Pete Barry (@pjbfcp), a friend and UX specialist, is the brains behind it all. I was pleased to be involved as well, contributing some site and logo design work to project.
Twinkle Trail launched earlier this month and the list of displays is growing daily. Check it out to add your favorites or just plot the best route to experience the lights in your neck of the woods this holiday season.