January 27th, 2011 | typography
My weekly round up of typographic goodness from around the web.

In The News: Verdana & 22 Other Typefaces Added to MoMA's Permanent Collection
I'm really excited about this. The Museum of Modern Art has added a number of digital fonts to its permanent collection.  Included in this first batch is Verdana, designed for Microsoft by Matthew Carter in 1996 and one of the first fonts designed specifically for onscreen use.
The fonts were added to MoMA's architecture and design collection, which contains work from 1932 to the present. The collection was light on graphic design pieces. Previously, the only other typeface in their collection was Helvetica.
"We realized that graphic design was a lacuna in the collection" said Paola Antonelli, senior curator of architecture and design at MoMA. "Three years ago we held a symposium in New York to discuss it and to identify new categories we should tackle. Typefaces were among them."
She goes on to say that the acquisitions, "…represent a new branch in our collection tree. They are all digital or designed with a foresight of the scope of the digital revolution, and they all significantly respond to the technological advancements occurring in the second half of the twentieth century. Each is a milestone in the history of typography. These newly acquired typefaces will all be on display in Standard Deviations, an installation of the contemporary design galleries opening March 2 ."
Dive deeper into the story, and the fonts themselves, via this great piece which originally appeared in The International Herald Tribune and on MoMA's blog.
The process of adding a typeface to a museum's permanent collection is much more complicated than just purchasing its license online. Jason Kottke gets the scoop from Jonathan Hoefler, one of the principals at Hoefler & Frere-Jones, a New York City type foundry that contributed four typefaces to MoMA.

Photo: Type
Great shot captured in a London tunnel by Photomat on Flickr.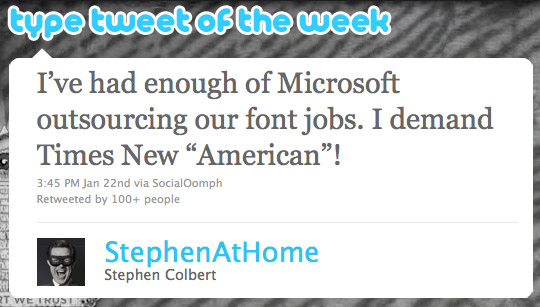 Type Tweet O' the Week: Times New "American"
A tip o' the hat to @StephenAtHome for this patriotic tweet. I salute Mr. Colbert's willingness to take a stand on this issue. I've always blamed NAFTA for the proliferation of the Salsa font.
Further Reading: Simon Garfield on Typefaces
Fantastic interview with the author of Just My Type by Anna Blundy at The Browser. Simon Garfield talks about the fonts we love and those we love to hate and recommends some typography books. (via Single Measures)
Have you come across something amazing and typography-related online? Let me know! If I include it in an upcoming edition of TypoTh, I'll gladly give you credit.
Tags:
links
,
MoMA
,
typography thursday