November 11th, 2010 | typography | 1 Comment
My weekly round up of typographic goodness from around the web.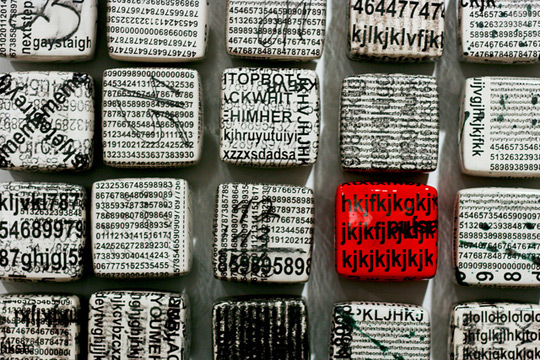 Photo: Type Art
I love this shot by Meshl on Flickr. It's a detail from an artwork by Kaiser Suidan currently on display in a SOFA Chicago exhibition.


Furniture: A Typography Geek's Dream Bookshelf
The Aakkoset bookshelf manages to be both visually stunning and questionably functional. As Gizmodo notes, "It's mildly funny that some letters, like S, are incredibly useful in real life but not at all useful as a shelf design."

Fashion: Putting the 'T's in Typographic Tees
I don't understand fashion. Case and point: Designers Masashi Kawamura and Itaru Yonenaga created these tops based on the silhouettes of capital T's from typefaces such as Helvetica, Caslon, Baskerville, Courier and Cooper Black. "In the world of typography, terms such as typeface, character, body and so on are used to describe the form of a letter," said Kawamura. "In the designing process of these shirts, I aimed to capture the character of each typeface and tried to give them a unique look and presence once worn."
Further Reading: This one time, at Type Camp…
Type Camp Announces it's 2011 Events.
Have you come across something amazing and typography-related online? Let me know! If I include it in an upcoming edition of TypoTh, I'll gladly give you credit.
Tags:
links
,
typography thursday