April 22nd, 2010 | typography | 1 Comment
My weekly round up of typographic goodness from around the web.
Decision-maker: So you need a typeface?
Who doesn't love a good flowchart? Julian Hansen, a design student from Copenhagen, has created this alternative way to choose fonts (or just be inspired) for a specific project. It's pretty ingenious and loosely based on FontShop's top 50. You know you want to, so click the image above for the large version.


Site O' The Week: TypeiFind
Time-suck warning. Some seriously cool stuff is to be found on TypeiFind. An elegantly simple blog design frames this collection of found type from the real and digital worlds. In the words of the curator, "I want this site to inspire, intrigue and motivate artists with the love of type." User submissions are encouraged as well. Check it out.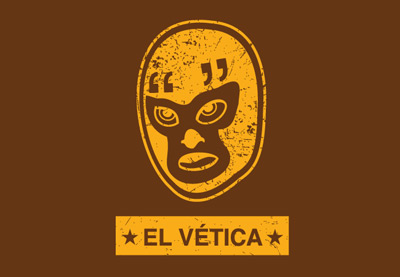 Type-shirt: El Vética
Oh Dios mío! This shirt from Mule Design celebrates the career of Mexico's only typographer/luchador. They tell us, "El Vética, also known as El Kernudo, fought out of the small town of San Serif." Vamanos and get yours today.

Events About Town: "Hi-Octane Type" with Chank Diesel
Thursday, April 29, 9 -11 a.m.
CoCo – collaborative & coworking space
St. Paul, MN
The one and only Chank Diesel, amazing type designer, will share the inside scoop about typographic improvisations and renovations. He'll show early font work, samples of fonts in action and case studies of how custom fonts help create great brands. A bargain at $15 (add a half day of coworking for another $15). Register at CoCo.
Personal Plug: Web Typography – Viva La Revolution!
I had a chance to give a fun presentation this week on web typography.
Inspiration: 20 Font Driven Websites Showcase
Great roundup over at Inspired Magazine of some stunning sites using type as the primary design element.
Have you come across something amazing and typography-related online? Let me know!
If I include it in an upcoming edition of TypoTh, I'll give you credit.
Tags:
links
,
typography thursday