March 20th, 2008 | web culture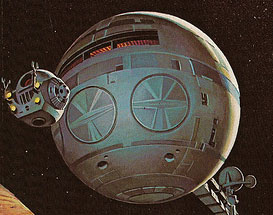 Photo by jovike
Arthur C. Clarke died yesterday at the age of 90 at his home in Sri Lanka. He authored of almost 100 books, accurately predicted the use of geosynchronous telecommunications satellites in 1945 and may be best known for creating "2001: A Space Odyssey" with director Stanley Kubrick. It's his distinctive brand of science fiction that I'll miss the most. No matter how far-reaching his stories were, they never lost their humanity.
Clarke once said that, "Any sufficiently advanced technology is indistinguishable from magic." Although originally referring to a possible encounter with an alien culture, the same could be said for the state of the web today. How many of us consider the interactions of social networking, or even email for that matter, nothing short of magical?
How many aspects of your life have been changed by the web in the last few years? How much will the current shift online from passive absorbers to active creators will affect the next five?
Tags:
arthurcclarke sciencefiction socialnetworking